Date: Wednesday, 28 April 2021
Time: 09:00 - 10:00 CEST
Session code 5CV.2
Alternative Renewable Fuels and Hydrogen
Remarkable Activity, Selectivity, and Stability of Innovative Ni Catalysts for the CO2 Methanation Process at Low Reaction Temperature
Short Introductive summary
At present, the most used technology to reduce CO2 emissions from industrial sources is Carbon Capture and Sequestration (CCS), which involves CO2 capture, transportation and underground storage. However, the captured CO2 could be converted into fuels and chemical, such as synthesis gas (via CH4 reforming]) or methane, following its hydrogenation (the so-called CO2 methanation reaction). This experimental study reports on the activity and selectivity of Ni/CeO2, Ni/MxOy-CeO2 and Ni/La2O3-MxOy-CeO2 (M= Mg2+) during the CO2 methanation reaction. The supports were synthesized by a microwave assisted sol-gel method using a microwave accelerated reaction system (MARS-6), while the Ni-based catalysts were prepared via the wet impregnation method using the appropriate nitrate solutions. For the investigation of the morphological, textural and chemical structural properties of the supports and catalysts a variety of characterization techniques were performed, i.e., Raman spectroscopy, XRD, N2 physisorption-desorption, CO2-TPD, H2-TPR, H2-TPD, XPS and TEM. Carbon deposition and sintering on the active sites were investigated using TEM.
Presenter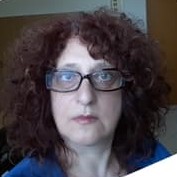 Maria GOULA
Laboratory of Alternative Fuels and Environmental Catalysis, University of Western Macedonia, Chemical Engineering Dpt.
Presenter's biography
Maria Goula is Professor of Catalysis in the Dept. of Chemical Engineering of the University of Western Macedonia and director of the Laboratory of Alternatives Fuels & Environmental Catalysis. Prof. Goula is author of 62 publications, which have received over 2117 citations (h-index=22, Scopus).
Biographies and Short introductive summaries are supplied directly by presenters and are published here unedited
Co-authors:
G.I. Siakavelas, University of Western Macedonia, Kozani, GREECE
N.D. Charisiou, University of Western Macedonia, Kozani, GREECE
I.V. Yentekakis, Technical University of Crete, Chania, GREECE
K. Polychronopoulou, Department of Mechanical Engineering, Abu Dhabi, ARAB EMIRATES
M.A. Goula, University of Western Macedonia, Kozani, GREECE

Session reference: 5CV.2.13