Date: Tuesday, 27 April 2021
Time: 17:30 - 18:30 CEST
Session code 4BV.9
Resource Efficient Bioeconomy
High-Quality Biogenic Silica Production from Rice Husk and Rice Straw
Short Introductive summary
A combined energy and biogenic silica production from rice husk (RH) and rice straw (RS) under controlled conversion conditions would be a promising approach to produce low-cost silica. The previous studies in this subject have only been designed based on one influencing factor alone (OFAT) in literature. As a result, the simultaneous investigation of the influencing factors based on statistical experiments has not been performed in detail yet. Therefore, based on the Design of Experiments (DoE), the aim of this study is to screen six influencing factors concerning their impact on the quality of biogenic silica. The silica purity, amount of remaining inorganic impurities, carbon content, and BET specific surface area (BET SSA) of the remaining ashes were determined as DoE analysis responses. The results were further statistically evaluated using a Principal Component Analysis (PCA) and the Design-Expert 12 software package. The result of PCA showed that pretreatment alone could classify the ash samples, and it has maximum influence on ash purity and porosity. The other influencing factors have only a limited impact on the properties of studied ashes.
EUBCE Student Awardee Presentation
Presenter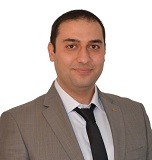 Hossein BEIDAGHY DIZAJI
DBFZ Deutsches Biomasseforschungszentrum gemeinnützige, Thermochemical Conversion Dpt.
Presenter's biography
Hossein Beidaghy Dizaji is a PhD student at Leipzig University and a researcher at German Biomass Research Centre (DBFZ). His research focus is ash related aspects during thermochemical conversion of silica-rich biomass assortments.
Biographies and Short introductive summaries are supplied directly by presenters and are published here unedited
Co-authors:
H. Beidaghy Dizaji, DBFZ Deutsches Biomasseforschungszentrum gemeinnützige GmbH, Leipzig, GERMANY
T. Zeng, DBFZ Deutsches Biomasseforschungszentrum gemeinnützige GmbH, Leipzig, GERMANY
T. Ruf, Wilhelm-Ostwald Institute, Leipzig University, Leipzig, GERMANY
R. Denecke, Wilhelm-Ostwald Institute, Leipzig University, Leipzig, GERMANY
D. Enke, Institute of Chemical Technology, Leipzig University, Leipzig, GERMANY

Session reference: 4BV.9.11