Date: Wednesday, 28 April 2021
Time: 16:15 - 17:15 CEST
Session code 3CO.12
Pyrolysis
Bio-Oil Upgrade and Application
Preparation and Screening of Mo Carbide Catalysts for Continuous Fast Pyrolysis Bio-Oil Stabilization by Hydrotreatment
Short Introductive summary
Bio-oil, produced via fast pyrolysis (FPBO) has gained attention as replacement for traditional fossil feedstocks. FPBO as such is so far applicable for fuel oil applications. However, bio-oil upgrading has been studied as a route for the production of renewable transportation fuels and chemicals from FPBO. Hydrotreatment, especially hydrodeoxygenation (HDO), is a crucial step of bio-oil upgrading to chemically stable and low oxygen content fuel components. BioFlex project aims to study and further develop the desired properties of FPBO hydrotreatment catalysts. The focus is in the first stabilising step aiming for the development for catalysts being active at low temperatures with good sulfur and coke tolerance. For the second (deoxygenation) step, more conventional sulfided catalysts will be applied. As part of the project, molybdenum carbide -based catalysts, that have shown promising results and noble metal catalyst like activity are studied as sulfur-tolerant and regenerable option for bio-oil stabilization in continuous operation. Deactivation and regeneration methods for MoC2-based catalysts in bio-oil HDO are identified.
Presenter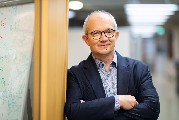 Juha LEHTONEN
VTT Technical Research Centre of Finland, Sustainable Energy and Chemical Technology Dpt.
Presenter's biography
Dr. Juha Lehtonen is research professor at VTT for area Sustainable energy and chemical technology. He has a long career in industrial research organizations as a specialist of chemical reaction engineering, catalysis and development of biofuels, oil refinery and specialty chemicals processes.
Biographies and Short introductive summaries are supplied directly by presenters and are published here unedited
Co-authors:
T. Viertiö, VTT Technical Research Centre of Finland, Espoo, FINLAND
J. Lehtonen, VTT Technical Research Centre of Finland, Espoo, FINLAND

Session reference: 3CO.12.3